Financial Education
How to use mobile payment apps
November 27, 2023
|
8 min read
In this article
Digital apps make transactions easy and are a simplified form of payment.
PayPal, Zelle and Venmo are the top three payment apps.
Follow our helpful tips to safe when using these apps.
Peer-to-peer (P2P) mobile payment apps let people send and receive money electronically. People are increasingly using these apps because they're fast, convenient and easy to set up and use. If you're new to how these apps work, keep reading to:
Get to know the big three: PayPal, Venmo and Zelle®.
Learn about important safety and security precautions.
Understand why you should use debit for your app's payment method.
Check out eight ways to use P2P mobile payment apps to make your life easier.
You've been there before — dining out with a large group. It's a great time until the bill comes, and everyone awkwardly pulls out their wallets. How do you pay?
Give cash to whoever foots the bill or throw down cash to pay for what you owe.
Tally up what everyone ordered on the back of the receipt. All parties mark down their total and card number. (The server loves this one.)
Throw in everyone's cards and split the bill, which always ends up being unfair to those who skipped drinks and appetizers.
With the emergence of peer-to-peer payment apps, these payment methods are history. Mobile payment apps (or cash apps) make it easy to pay someone for what you owe and request and receive money. Pay your portion for the Airbnb you're splitting with family, send your roommate half the rent or reimburse a friend for the money you borrowed. Any time you need to transfer funds to others, payment apps are the way to go. Now paying the dinner bill can be a pleasant and comfortable experience for all parties! So, what is a cash app?
Let's talk about how these easy apps work
Easy, huh? Here's why: Payment apps provide streamlined electronic transactions between people. Link your  bank account, or your debit or credit card, to the app. You may also be able to use funds from the balance on the app. If you're an over spender, using debit may be the preferred option for avoiding debt and the growing interest that comes with credit. Next, you'll search for the recipient by phone number, email address, username or even Facebook (if you choose to sync to that social platform). From there, simply fork over the funds! Here's how to get a cash app — like with any other app setup, it's fairly simple: Search and download the app, sign up for an account and follow the prompts, including any steps for verification and passwords to increase security.
The big three
Venmo, PayPal and Zelle are among the top P2P apps people use. There are a number of contactless payment apps, including Google Pay, Apple Pay and Facebook Pay, but apps like these are less inclusive. If you don't have an Apple-compatible device, you can't use Apple Pay. The big three are more convenient because they're more universal.
PayPal
PayPal arguably reigns as king of P2P payment apps. It dates back to 1998 when it was founded as a money transfer service for online vendors and customers. Known for revolutionizing this type of payment processing, PayPal was bought by eBay in 2002 and skyrocketed in popularity around the globe as a growing number of people use PayPal for personal transactions. It's also a large commerce platform where merchants can do business with customers while managing their cash flow.
Venmo
This app is so popular that it's coined the phrase "just Venmo me!" Not only is PayPal-owned Venmo a P2P mobile payment app, but it's also a social network. Send a memo line and emoji with your payment and select Public to enable the feed where everyone can see who's paying whom for what. Through this broadcast, requesting and sending money becomes a social experience.
Zelle
Zelle is a popular peer-to-peer (P2P) payment service. Zelle makes sending and receiving money between bank accounts fast and easy. It only takes a few minutes for funds to be directly transferred. There's no charge for these instant deposits! Just make sure that the recipient also has Zelle set up before trying to send funds.
Due to technical difficulties beyond our control, at this time, members are not able to enroll a new Desert Financial debit card to Zelle. Desert Financial debit cards that have already been added to Zelle through the Zelle app can continue to use the Zelle app as normal. We apologize for any inconvenience this may cause.
Are P2P mobile payment apps safe to use?
Consumer Reports calls these apps "a convenient and easy way to send money to others" but also warns the risks of consumers losing money if falling victim to fraud or sending money to wrong person.1 For popular apps PayPal, Venmo and Zelle, they ensure the safety and security of their services.
Safety to remember
Be sure you are sending your money to the correct person.
Be certain the transaction you are sending is correct. Once sent, you are not guaranteed the funds back.
PayPal
PayPal's robust security features for buyers and sellers can ease user concerns. It helps eliminate any risk by not sharing full financial information with sellers, monitoring transactions 24/7, using encryption technology and offering Purchase Protection.
Security tip:  PayPal will never ask for confidential information via email!
Venmo
Venmo also uses encryption for account protection, as well as stores information on secure servers and monitors account activity.
Security tip:  Venmo will never contact you to request a password or verification code. Look for "https:" and a lock symbol next to the URL to verify encryption. You can also click on  Settings > Security to log out of any devices and add another layer of protection by setting up a PIN.
Zelle
Because Zelle moves money instantly, you'll want to make sure you're sending money to someone whom you trust and that the recipient's contact information is correct. Zelle also advises that users be aware of scams and avoid deals that sound too good to be true. For more information on security, check out www.Zellepay.com/pay-it-safe.
Keep in mind, like with all financial services, there are risks. Make sure to read up on the precautions your app is taking and only send/receive money with people whom you know and trust. It is advantageous to use a password generator, change your password frequently and monitor your account.
Millennials are known to have led the mobile payment revolution. As usage rapidly grows, other generations are catching on to it. Are you a newbie to digitally transferring money? Check out the big three mentioned in this article and transform how you share money!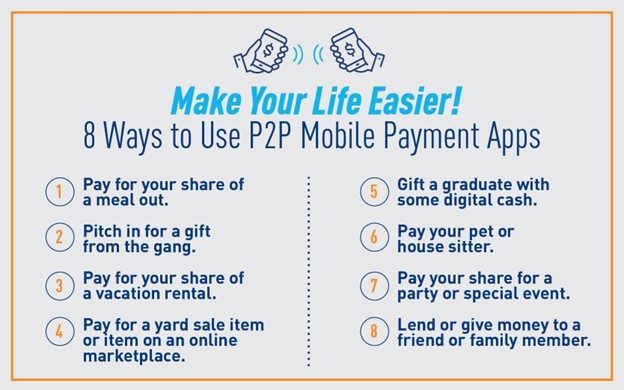 Debit card safety & security
At Desert Financial, your Visa® Debit Card is fraud-protected and we act quickly to resolve qualified fraud claims. To protect your debit card, review your checking account regularly, report fraudulent charges or lost/stolen cards immediately, keep your debit card in your possession at all times, protect your PIN and only use your debit card with trusted vendors.
Subscribe to our blog
Fill out the form below to sign up for our blog.
---
1
https://www.consumerreports.org/media-room/press-releases/2023/01/consumer-reports-finds-peer-to-peer-payment-apps-offer-ease-and-convenience-but-pose-potential-financial-and-privacy-risks-for-users/
PayPal, Venmo, Zelle, Google Pay, Apple Pay and Facebook Pay are non-affiliated third-parties of Desert Financial Credit Union. Desert Financial makes no warranties or representations about the goods or services offered.