YOUR MEMBERSHIP IS
MORE REWARDING
We couldn't do it without you. Really. And we want you to know just how much your membership means to us. That's why we give back with more benefits and rewards.
RELATIONSHIP REWARDS
The more you do with us, the more rewards you can earn — including FREE checking, cash back bonuses, loan discounts and more.
Get the Details
---
MEMBER GIVEBACK BONUS
You could earn an annual cash back bonus just by partnering with us to achieve your financial goals!
Find Out How
---
EXCEPTIONAL EXPERIENCES
Here's your chance to win concert tickets, VIP sports packages, cash prizes and more in our seasonal sweepstakes.
THE LATEST WINNERS
Love My Home Sweepstakes Winners
Congratulations to our Love My Home Sweepstakes winners! We've awarded five lucky winners with the prizes below to use toward turning their house into their dream home:
Lindsay W. – Grand Prize – $50,000
Dan S. – Second Prize – $10,000
Paul T., Lucila J. and Susie J. – Third Prize – $5,000
---
IT'S EASY TO BECOME A MEMBER
Join Desert Financial and start earning your rewards.
Open an Account
WHAT YOU DO HERE
COUNTS FOR MORE
When you partner with Desert Financial for life's big decisions and purchases, you empower us to help people in our community. There's no donation or volunteering required — though there are always opportunities to join us in giving back.
COMMUNITY
Desert Financial is passionate about helping others, and our team members are, too! We offer hundreds of ways for our employees to give back throughout the year.
Featured Community Event
Phoenix Children's Hospital's Give-A-Thon
At Phoenix Children's Hospital, 1 Darn Cool School gives children the chance to continue with their academics during their journey of healing. For kids battling critical diseases or recovering from injuries, homework means hope.
Desert Financial has been a proud supporter of 1 Darn Cool School for more than two decades and organizes the annual Phoenix Children's Hospital Give-A-Thon benefitting 1 Darn Cool School. To raise funds and awareness for PCH and 1 Darn Cool School, Desert Financial encouraged employees and members to become Champions of Hope and purchase raffle tickets as a donation to the 2nd annual telethon fundraiser. Desert Financial employees also volunteered at the event to show their support for the hospital's impactful school program.
"Our friendship with and support of 1 Darn Cool School is one of the most special ways we honor the legacy of our founders," says Ron Amstutz, Executive Vice President at Desert Financial. "Children coping with long hospital stays can benefit from the healing effects of continuing their schooling, and we're proud to invite the community to experience the joy of making an impact at Phoenix Children's."
COMMUNITY TOTALS
volunteer events this year
AND
volunteer hours in 2021
RANDOM ACT OF KINDNESS
We started a #KindnessRevolution in Arizona by surprising members of our community in unexpected ways!
Featured Random Act of Kindness
Turkey Drive
We donated $150,000 total toward Thanksgiving efforts: $50,000 each to Flagstaff Family Food Center and United Food Bank for a Turkey Drive match, plus an additional $25,000 match to both the Prescott Valley Chamber of Commerce and the Prescott Chamber of Commerce to benefit the Yavapai County Food Bank.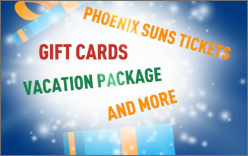 We awarded 30 prizes as part of our Secret Santa Social Giveaway.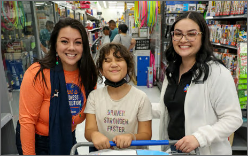 Fifty underprivileged kids were given $400 each for a holiday shopping spree.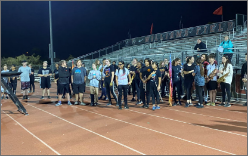 The Williams Field High School Marching Band received a new PA system.
RANDOM ACT OF KINDNESS TOTALS
We performed
Random Acts of Kindness in 2021
AND
given back
TEACHER APPRECIATION
Throughout the year, we're rewarding the Valley educators who are shaping our next generation by hosting special events, providing school supplies and so much more!
Featured Teacher Appreciation Event
Guerrero Elementary Ding-Dong Drop-Off
Principal Brian Minarcik of Guerrero Elementary School in Mesa sent us a wish list of school supplies for his teachers, and we were able to purchase most of the items on the list. Make sure to check back to see where our next Ding-Dong Drop-Off will be!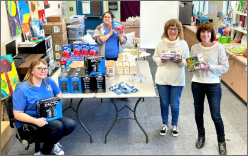 We stocked the Carson Junior High School teachers' lounge with new items.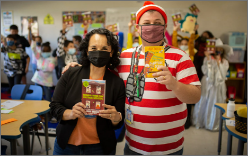 Adopt-A-Teacher recipient Nathan Taylor presented books to every student at his school.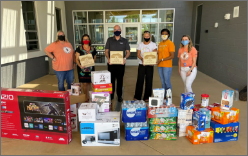 Throughout 2021, we performed more than 80 acts of Teacher Appreciation.
TEACHER APPRECIATION TOTALS
We hosted
Teacher Appreciation events in 2021
AND
given back
DESERT FINANCIAL FOUNDATION
Founded in 2017, our Foundation helps Valley nonprofits and supports education through scholarship and financial literacy programs. The Foundation also works to create innovative programs for Desert Financial team members and to increase our outreach and impact in the community.
Learn More
---
MAKE A DIFFERENCE IN YOUR COMMUNITY
You will help us give back just by banking with us!
JOIN DESERT FINANCIAL
WE
TAKE CARE

OF OUR OWN

So they can take better care of our members

At Desert Financial, we provide our team members with a personalized roadmap for their success. Benefits like affordable healthcare, full 401(k) matching, paid volunteer hours and tuition reimbursement are just the start.
Consistently recognized as one of Phoenix Business Journal's Best Places to Work
Job satisfaction rating of 93%
---
CREATE EXPERIENCES THAT MATTER
Want to learn more about joining our team? Check out our career opportunities!
FIND YOUR FIT